Poet Trees - Ekphrastic Poetry Written To Trees
Poet Trees - Ekphrastic Poetry Written To Trees
February 08, 2019
Introducing Poet Trees, a collection of ecphrastic poetry written in response to photos of trees. The 66-page book includes the work of seven poets.
Photography by Dan Murano
Poetry editor: Grace Cavalieri
Poets: Ellen Carter, Grace Cavalieri, Geoffrey Himes, Emily Ferrara, Sabine Pascarelli, Maria van Beuren, Ellen Wise.
Photography & Poetry
The photo enjoys success on its own. And so does each poem. Why, then, bring them together? Perhaps it's the centrality of the photograph that asks for another point of view. Maybe a visual is always a question to the viewer. A poem can be an answer. Photography and poetry raise the level of sight and diction. One displays evidence; the other a response— a social notation on an act of nature. Every tree in this book has its own narrative in its presentation. Each individual poem tries to match the imagery. Both forms can be analyzed forever, but their dialogue is what this book presents.
— Grace Cavalieri
Released in February, 2019.
Click the link below to see a short profile and to order the book.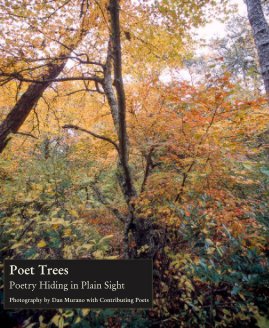 Poet Trees
Poetry Hiding in Plain Sight
By Dan Murano
© Dan Murano, all rights reserved